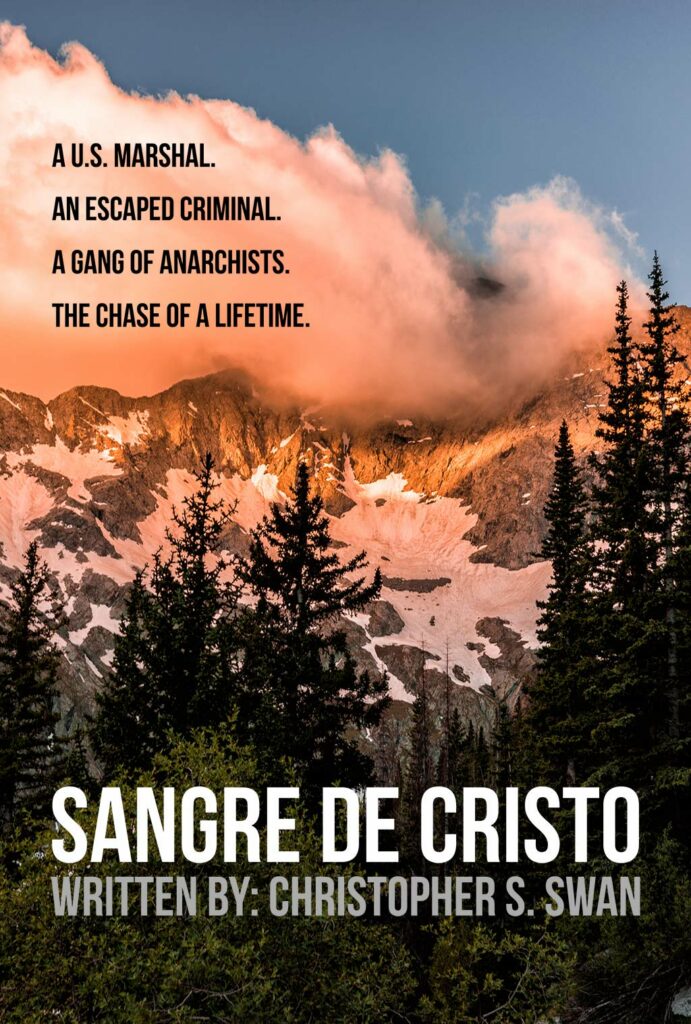 ---
Click to Read the Story Synopsis

After a U.S. Marshal captures an escaped criminal in Denver, Colorado, the two men begin their trip south back to a prison in Santa Fe, New Mexico.

Within hours, a violent gang of drug-fueled anarchists intervenes, forcing the marshal and his prisoner to escape deep into the Sangre de Cristo range of the Rocky Mountains.

As the dangerous chase unfolds through unforgiving terrain, the prisoner bears witness to the marshal's display of calm courage and unwavering faith in the Lord; an experience that leads to the prisoner uncovering his own brokenness, and discovering salvation.

With supplies and ammunition running low, the two God-fearing men must push through their own exhaustion and work together in order to survive the deadly grasp of the evil pursing them.

While Jesus is within all believers at all times, in this story, it can also be said that the blood of Christ runs through the heart of the Rockies.

---
Author's Note | Map | Rights
Sangre de Cristo; Spanish for "Blood of Christ"
Approx. 130 pages | PG-13 | 2022
Genre: Action Thriller
Medium: Digital Novel
Devices: Computer / Smartphone
Already Reading? Story Login
If you like THE FUGITIVE
and CLIFFHANGER,
then you'll love
SANGRE DE CRISTO.


---
Already Reading?
Login, then click the cover above!


---
Click to Read the Quick Notes

Device Recommendation: The digital novel is delivered on a responsive platform, so you can read it on a desktop, laptop, tablet, or phone. That said, the larger screen of a desktop / laptop will give you a more immersive experience.
Logged in: Once you've securely purchased the digital novel, stay logged in to maintain access to the Author's Note, all of the Chapters, the Map, and the Rights & Permissions. All of these are also under SANGRE DE CRISTO in the main menu.
Logged out: If you get logged out, no problem, just log back in using the secure login page under SANGRE DE CRISTO in the main menu.
Browser: Please be sure to always refresh your browser so you're seeing any updates that might have happened while you were away.